Your dream will come true thanks to:
Tell us your dream:
Log House aATRIUM
Are you looking for a home for your family which combines today`s light and modern touch with the building traditions and values of our forefathers?
We have constructed a house for a trendy person who values spaciousness, fluidity, and airiness, but yet wants his home to be in harmony with the nature and to become one with the surrounding environment.
There is also room for future developments. Why not have solar panels placed on the roof, start a compost pile in the garden, or plant apple trees around the house?
In aTRIUM, there is open space from the fireplace to the kitchen, and large windows reach up to the ceiling. Also, the rooms are lit by skylights. The house is rationally designed, combining everything necessary. A surprise element is guaranteed by a plank-bed high under the roof, which proves to be valuable if you need to accommodate unexpected guests or to create a fascinating play area for the children.
What is more, aATRIUM has two shelters, one for an outdoor fireplace, where you can spend some quality time with your family or friends even when the weather is rainy, and the other one for cars.
DRAWINGS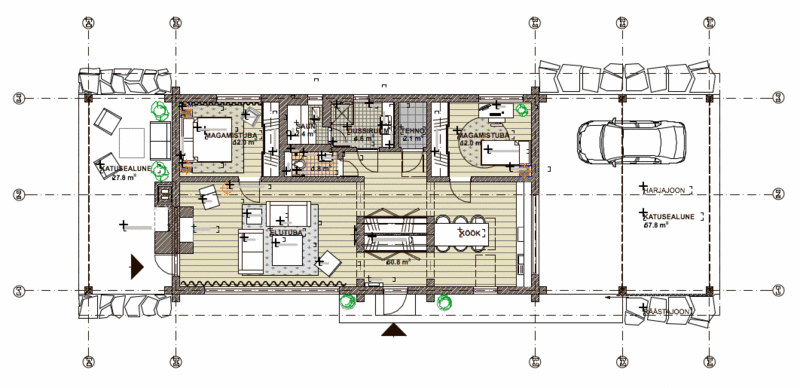 OUTSIDE VIEWSVIEWS FROM THE INSIDE